Trying a new hair salon is a nerve wrecking experience! But not when you visit Salon Greco. Our staff is trained to make you feel comfortable, heard and understood.
You will be given a unique consultation! This long consultation will help our stylists consider your unique face & scalp shape, hair condition, texture, skin tone and life-style before designing a cut, style or hair color. Our hair salon has been voted Best In Gwinnett for 10 consecutive years!
Expect your trained professional to make recommendations of what will look best on you, whether it is a new cut, style or color! The result? A unique look created just for you! The difference between leaving a hair salon happy or crying is communication, training & dedication. To insure we get your needs right, we have trained our team well and we have 100+ years of combined of experience. Our aim is beautiful, healthy hair.
Choose Salon Greco for all your hair salon needs & get:
The Ultimate Hair Consultation
European Techniques in Hair Cutting & Styling
European Colors & Coloring Techniques
The Best & Safest Products in the Industry
Hair Fiber Builders in each color formulation
The Ultimate Massage/Shampoo Experience
Beautiful Hair Finishing & Style
Personalized Prescriptions for Home Care
Beauty Secrets Just For You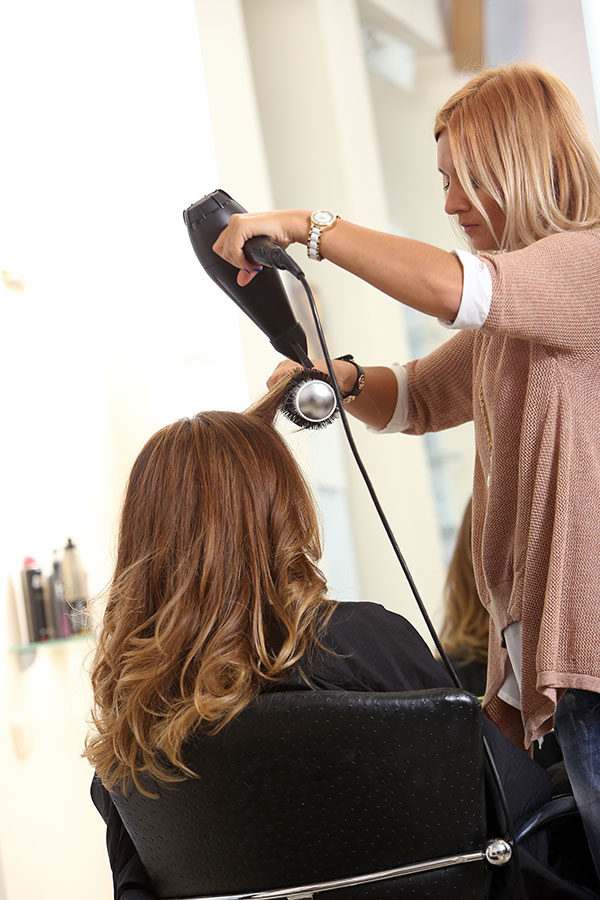 FAQs about Hair Color & Highlights
What is Hair Coloring?
"Hair Color" or "One Step Color "refers to the application of a color formula on either the roots, or all over the strands to change the existing hair color, to cover natural gray or even out the tone from roots to ends.  
What types of Hair Color are there?
Permanent Hair Color – An alkaline chemical pre mixed with pigments that is activated by Peroxide just before it is applied to hair. The chemicals and pigments in the Permanent Hair Color create a chemical reaction within your hair to destroy and/or deposit the desired color. The end result is a combination of your natural hair pigment after the chemical reaction plus the new pigments deposited inside your hair.   Unlike the name, Permanent Color is not permanent, but it lasts much longer than other types of Hair Color. It is however permanently changed with a chemical reaction.  In 4-5 weeks the new growth needs to be colored and the ends might need to be refreshed as the original pigments deposited in your hair fade.  Because of the chemical reaction within the hair, a conditioning treatment is recommended to keep the hair in its optimum condition and shine.
Semi-Permanent Color – This type of hair color contains tiny molecules of pigment that stick underneath the outer layer of the hair called Cuticle which resembles fish scales or shingles on a roof.  Some Semi-Permanent colors use small amounts of Peroxide which can cause a slight chemical reaction within the hair, that becomes visible only after the deposited pigment fade.  At Salon Greco we use the best quality semi-permanent color molecules, with an incredible deliver system and NO peroxide, to make sure your hair is not compromised.
Temporary Color – This formula contains Hair Color Pigments that simply stick to the outside of the hair shaft.  They do not cause a chemical reaction to change your hair color, they simply are added to your existing hair color. For that reason, your existing color determines how bright or visible the Temporary Color will look. A Temporary red color will look Burgundy on dark hair, but bright or even pink on light blond or bleached hair.  Within this Temporary Color category we also feature Bold, Glow In The Dark, Pastels  and European Fashion Colors.
What Is Hair Highlighting?
Highlighting is a color process where isolated strands of hair are either discolored to create a lighter effect, or changed to a different hue. The most popular highlighting technique among colorists is Foiling.  Tin Foil is used to isolate the color strands while the formula processes. However some other forms of Highlighting use papers, cotton or saran wrap.  The material used to create the highlighting effect is simply a way to isolate the hair strands and keep the formula from spreading in other areas of the head shape.  At Salon Greco we prefer to use foils and we weave our sections for a seamless look.
What Types of Highlights are there?
What makes the look of the Highlights interesting is the amount of hair isolated, the placement pattern and the spacing of the section that determine the end result.
Baby Lights – A soft natural effect of color mainly around the face.
Low Lights – Darker strands of color placed usually around the perimeter of  the head shape or between lighter strands for a contrasting look. Low Lights can create depth and give the illusion of thicker hair. .
Balaylights – A combination of Balayage and Highlights that creates a gradation of color from roots to ends.  Best suited for curly/wavy hair. 
Micro Highlights (Foils) – A thin, fine section (Micro Foils) placed within one inch sections will result in a natural highlighted look.  A thin, fine section placed every 1/4th of an inch will give you a very dramatic look.
Woven Highlights (Foils) – Woven highlights can also vary according to how much hair is isolated, the placement and the spacing between the sections. Woven Foils can create a subtle or chunky look.
Panels – This Highlighting technique uses large sections of hair (think of medium Lasagna) to create a VERY dramatic effect at the crown area.
What You Need To Know About Highlights:
Highlights that are done with a bleaching agent can damage your hair, if a proper consultation is not done, if the colorist is not experienced, if the proper product is not used and if the Highlights are over processed.  After the highlighting process, the hair is in a very fragile state. It must be followed by a treatment to stop the chemical reaction with in the hair shaft, neutralize the bleaching agent and seal the hair. At Salon Greco we include a bond builder in our formulas and follow up with a neutralizing treatment after the Highlighting service. 
What are balayage  (balāˈyäzh) highlights?
Balayage has become a very popular word used in salons.  Balayage is not a look, but a coloring technique that offers countless of looks based on the existing hair color, how much hair is colored, how long the product is left on the hair, and whether it is combined with another service.
How is Balayage performed?
"Balayage" is the French word for "to sweep" and refers to the coloring technique of brushing or sweeping lightener, freehand onto the hair.
The free hand painting of Balayage focuses more discoloration on the ends of the hair then the roots. The lighter color on the ends transitions softly in the mid shaft and seamlessly fads towards the hair line, giving you a more natural, youthful look.  The Balayage processes in open air or under plastic film, allowing the strands of hair to gently reach a natural lifting peak.
What you need to know about Balayage:
Balayage can be complicated and might need to be followed by other services. Balayage can only lift hair up to your natural undertones (consult with your stylist about your individual undertones), and might need to be toned/glazed to blend or neutralize undertones. Therefore, if you are a dark brunet, this technique will NOT get you to pale blond without adding foils and possibly a toner or glaze.
Balayage requires less maintenance than foiling since it grows out without the intense contrasted discoloration at the roots.
Balayage is a highly specialized hair coloring technique and not every stylist is trained to perform the service, therefore it is an expensive service.
Balayage can damage the ends of hair if not prepped appropriately.  Hair needs to be in optimum condition before the service is performed. In most cases we recommend at least 2 conditioning treatments, and specific shampoos and conditioners to repair and strengthen the hair fiber prior to Balayage. Follow our professional advice for the perfect Balayage.
What is ombre hair?
Unlike, Balayage and Foils, which are hair coloring techniques, Ombre Hair is a look.
Ombre is a French word translated "shaded". Ombre hair showcases a soft transition from one color hue to another, throughout the entire hair. For example: dark hair to light hair, Black to Gray, Red to Pink, Copper to Strawberry Blond, etc. Ombre hair can be done on both long and short hair, however it looks great on longer hair, where the length showcases the transition of hues.
How is Ombre performed?
Ombre is a look that can be achieved with color touch-up, foiling, Balayage or all three techniques. Once the desired hue is chosen, the colorist will create the transition from a darker base to lighter ends or visa versus, choosing the best techniques for the hair. Once the transition is created, a toner or glaze will add the finishing hue to the Ombre look.
What you need to know about Ombre Hair
Ombre hair is beautiful if done correctly. It can look two toned if there is no transition or done incorrectly. Ombre hair color might involve two or three services which makes it an expensive look.
Ombre hair requires strengthening treatments to keep hair looking healthy and retain the hair color on the ends.
Since the lighter strands of the Ombre do not start at the scalp, a natural Ombre does not require regular maintenance, such as Foils do. You can actually go a year without touching up an Ombre.
Fashion Ombre colors fade faster than natural hair colors and require more maintenance to maintain the fashion color.
In most cases we recommend at least 2 conditioning treatments, and specific shampoos and conditioners to repair and strengthen the hair fiber prior to service. Follow our professional advice for the perfect Ombre.
What is a hair glaze treatment?
A Glaze is a temporary treatment that seals the outside layer (cuticle) of the hair. It lasts an average of 2-4 weeks depending on the porosity of the hair and how often client shampoos their hair.
How is a Hair Glaze performed?
After the hair is shampooed, clarified, and towel dried, the glaze is applied from roots to ends, combed through for even distribution and allowed to process for up to 20 minutes. At times the stylist might choose to place client under a drier to drive the glaze deeper into the hair. Hair is then lightly shampooed, to remove any excess glaze from scalp, and followed by a conditioning treatment to lock in the glaze.  
What you need to know about Hair Glaze Treatments:
A Hair Glaze is a temporary treatment.
A Hair Glaze can be clear or contain a hue/tone that will show only on light strands of hair, such as highlighted hair, gray or Balayage.  Our European Hair Glaze treatments do not contain ammonia or peroxide and do not change the base color.
Hair Glaze wears off the hair with each shampoo. If you want your Hair Glaze to last longer, shampoo less often.
A Hair Glaze adds shine, smooths out ends of hair and can add volume and fullness to thin hair as it re-enforces the cuticle layer.
We recommend adding a Hair Glaze to your salon regiment every time you change color hues, when seasons change before you go on vacation and every time you need to add more shine to your hair.  A Hair Glaze seals your hair for a better seasonal transition, protects from vacation abuse, and seals in added color. Scheduling regular hair Glaze treatments can also serve as color refreshers, and can be safer and healthier than traditional toners. 
What is a hair gloss treatment?
A Glaze is a temporary treatment that seals the outside layer (cuticle) of the hair. It lasts an average of 2-4 weeks depending on the porosity of the hair and how often client shampoos their hair.
How is A Hair Gloss Performed?
Every salon has its own way of performing a Hair Gloss.  At Salon Greco we choose the appropriate Hair Gloss according to your hair texture and hair needs.
After hair has been cleansed, we apply the gloss from roots to ends, at the shampoo bowl, and process it for 15 minutes. The Hair Gloss is then lightly shampooed from the hair and followed by a conditioning rinse.
What you need to know about Hair Gloss:
A Hair Gloss Treatment is temporary & last up to 3 weeks.
A Hair Gloss adds shine to natural or color treated hair.
A Gloss cannot change the tone or color of hair because it does not contain ammonia or peroxide, or hue/tone. A Gloss can be added to a color or highlighting formula and processed during either of these services.
A Gloss can be done every time you visit the salon.
At Salon Greco we offer different many treatments that contain a Gloss. We offer Shine Gloss, Moisture plus Gloss, and Moisture, Repair plus Gloss. We can also add a Gloss to our color formula, our High Lightening service or perform it as a standalone service. 
How does color correction work?
Color correction is necessary when something goes wrong with a Color process, when a client wants to make a major color change, or transitioning from one color service to another. Color correction is individualized and can vary as to the services needed to achieve client's desired look.
At Salon Greco Color Correction is done in steps:
1.    We start with a thorough consultation. The colorist needs information on what client wants, the hair's history, the home routine and all services that have been performed for the last 1-2 years. Be honest, do not hold back. It can mean a successful color correction or a further color disaster.
2.    Communication on both sides, client and colorist must be clear. Make sure you both speak the same "language".  What a client sees as "Brassy" might be "Yellow" to a colorist.  
3.    Be clear on what you wants and be open to professional recommendation. Have pictures of both what you do and do not want ready to show your colorist. Have realistic goals. No matter how good your colorist is she/he CANNOT take black hair to white in 30 minutes… Just saying.
4.    The colorist will evaluate both hair and the scalp. The color correction process will depend on the health and condition of your scalp and the hair.
5.    After the consultation, colorist will suggest the necessary services and make a plan of action for your individual needs. If the color correction is easy and there is time available, the color correction can be performed on the same day.  More complicated color corrections will be rescheduled to allow ample time. Do NOT rush Color Correction. Before a color correction time is booked, you will be made aware of services and estimated prices that will be performed.  
6.    Home care products that prep the hair will be suggested for use prior to all color correction services.  
FAQs about Hair Cuts & Extensions
"How do I know if a Haircut I like will look good on me?"
When choosing a new haircut and style, keep in mind your hair type, texture, growth patterns and your own styling ability.  Think about how you would style your new look, what new products you might need and how much time you will have to put into styling it.  Last thing to consider is the area you live in. Believe it or not, it makes a difference. A cut and style that looks good in LA might collapse in the humidity of Atlanta.
Face shape also plays a big importance on what cut and style will work for you. Face shape will dictate the best length, where the best place for fullness will be on your unique head shape and how many layers can be done on your haircut.
So why does the same haircut look good on one person and not on another? Because once the hair is cut, it lays on your unique head shape and dries with the unique hair growth pattern of each person.
When considering a new look, it is ok to look at pictures with similar hair types as yours.  If your hair is curly, look at curly haircuts and styles. If your hair is thin, look at pictures of thin hair, etc.
Once you find what you like in a new haircut and style, you will need to locate an experienced stylist to set up a consultation. Never walk into a salon and ask for a new haircut. A consultation will allow you time to meet the stylist that will create a new look for you. You need to feel confident and comfortable with the one who will transform your look.
In our Hair Salon we train our stylists to consider your individuality (face shape, head shape, hair type, hair texture, etc), offer professional advice, recommend appropriate products and suggest a maintenance program for your new look.
"Will hair extensions damage my hair?"
No, hair extensions will not damage your natural hair. However, hair with hair extensions does require more care than normal. We recommend a little extra care on a weekly basis. We also suggest that you thoroughly inspect your hair extensions occasionally. This will help you to enjoy your extensions as long as possible, but it also helps avoid tangles and unnecessary wear on both the extensions and your natural hair.
What kinds of hair extensions are there?
Hair extensions come in various forms to suit the needs and hair types of clients. Your stylist will be the best person to consult with when choosing which Extension method is best for you.
Bellow you will find our preferred hair extension methods and why we use them.
1.      Fusion – This extension is applied with a pliable bond that is fused to the natural hair. We use this method to add length and maximum fullness at all lengths. Fusion extensions can be worn for up to 4 months, but cannot be reused. Removal can be long and involves breaking the bond with a liquid solvent.
2.      Microlinks – The extension is attached to the natural hair with a no slip microbead.  Like the Fusion method, they add both length and volume, but they are easier & faster to remove. Microlink extensions can be adjusted every 2 months and if natural hair is cared for appropriately, they can be worn for up to 5 months. Removal involves bending the microlink and releasing the extension. The cost is similar to Fusion Extensions.
3.      Tape Ins – The fastest and easiest hair extensions to add length. This method presses two strips pre-taped wefts on either side of a section of natural hair. The extensions are one inch wide and grow out with the natural hair, therefore they need to be adjusted every 5-6 weeks. The adjustment involves, removal of the damage free adhesive, reconditioning of the extension and re-application.  Tape ins that are maintained on a regular basis can be re-used up to 6 months, making them the best priced extension method.
4.      Clip Ons – This form of extension is pre-sized and pre-fit in width and length. They are attached to the natural hair by metal or plastic clips, but have to be removed overnight.
They are the most temporary and easy way to add length for a special occasion without the long term commitment.
5.      Weave (Sown On) – The natural hair is put into a braid/cornrow and the extension weft is sown on the braid with thread. Sown On extensions can add both length and fullness but can be visible if the breads underneath are too thick. Also, they can be uncomfortable when laying down. The braids can also cause sensitivity to the scalp if they are sown on too tight, not removed often to allow for appropriate cleansing of the braided hair and can cause hair damage if not cared appropriately.
At Salon Greco we use only 100% human hair extensions with customized color blend and all lengths and texture. 
How do I care for my hair extensions? 
Proper care of Human Hair Extensions will result in longer lasting better looking extensions. Here are a few tips on how to care for your hair extensions:
• Using specific home care (shampoos, conditioners & styling products) for extensions.
• Keep your extension hair from drying out by not shampooing them too often. Ask your stylist how often you should shampoo based on your scalp type.
• Shampoo your extensions twice, rinse and condition from the ponytail down first, then the crown. Do not rub the wet hair with a towel to dry them. Pat them dry instead avoiding friction.
• Do not leave your wet extensions wrapped in a towel for extended period. Get to styling tem soon after you finish shampooing them
• Blow dry & style your natural hair and the extensions each time you shampoo. Never go to bed with wet extensions.
• Comb and detangle wet hair gently using an extension specific brush.
• Prevent hair extensions from tangling by regularly brushing them focusing on the roots and the hair in between the extensions. Brush hair every night before going to bed.
• Prevent friction of the hair by sleeping on a silk pillow case.
• Avoiding frequent use of heating tools such as flat irons and curling irons
• Avoiding swimming pools and Jacuzzi's. Chlorine and such pool chemical can ruin hair extensions.
• Refrain from at-home chemical services (leave the care of your extensions to the pros).
• Visit to the salon regularly for scalp and hair conditioning treatments and maintenance services.
• Follow the advice and recommendation of your stylist for best results.
At Salon Greco we instruct our clients that if they DO what our professionals recommend for them and USE what we use, they will LOVE their hair!
What kinds of hair cuts are there?
A well trained, experience stylist will be the best person to determine if the haircut and style you are considering, would look good.  Such stylist will conduct a consultation, hair & scalp analysis and make suggestions on what will suit your face shape, work well with your hair type and texture and whether your hair will require a lot of maintenance or not.
"What haircut and style looks good on me?"
Here are some facts to consider when choosing a new Haircut and Style:
• Curly hair becomes big/wide in humid climates, especially when it is cut above the shoulders
• Long hair tend to go flat at the crown
• Frizzy hair gets less frizzy with minimum or no layers
• Layers take longer to style
• Thin hair is difficult to stack at the nape and/or sides
• Head shape matters when it comes to shorter haircuts and styles
• Growth patterns (cowlicks) are hard and at times impossible to control with short hair
• Hair cut to the shoulders will create a wider overall look
• Hair below the shoulder will create elongation
• Fringe (bangs) will add width to a face shape
• Long side fringe will add length to a face shape
• Side parts hide uneven facial features
• A fringe will balance out a predominant nose
• An one length Bod (no layers) will create the fullest perimeter of thin hair
Shorter hair controls longer hair (short hair will determine the direction of longer hair)
How long do eyelash extensions last?
Before rushing to book an appointment for Eye Lash Extensions you should be aware of the commitment and maintenance.  Eye lash extensions might be gorgeous but they need regular maintenance and so do your own lashes.
How long your lash extensions last depends on the application, the type of glue used and how well you take care of them.  Since each lash extension is attached to one of your natural lashes, the extensions will only last the full cycle of your own lashes which can be between 6 to 8 weeks.  However as a natural lash falls off so does the extension, leaving room for maintenance fill-ins every 3 weeks, to keep them looking full and even.
Caring for your lash extensions is a main part of the maintenance.  Here are some tips to keep your lash extensions looking glamorous:
• Follow the instructions of the professional who is doing the application as to the proper products to use at home
• Allow 48 hours after the application for the glue to set.
• Avoid oil based eye make-up removers. They compromise the glue.
• Avoid mascara or use specific water soluble mascaras recommended by your professional.
• Do not curl your lash extensions.
• Inform your Esthetician about your lash extensions. During a facial, the steam might soften the glue.
• Avoid swimming. Pool chemicals can weaken the glue.
• Brush and clean your lash extensions with a clean mascara wand.
• Sleep on your back. Do not smash your lashes on the pillow by sleeping on your stomach.
• Do not pull on any loose lash extensions. Schedule an appointment to have them adjusted by your professional.  
Ask our professionals how to keep your natural lashes strong and healthy and enjoy beautiful lashes even after your extensions are removed.
How long do hair extensions last?
The longevity of human hair extensions really depends on how fast the natural hair grows and how well the extensions are cared for.  On average, Micro Links will last 3-4 months (and up to 5 months if they can be adjusted in between), Keratin Links up to 4 months and then replaced with a new set, Tape Ins 5-7 weeks and must be removed, cleansed and re-applied, Sew Ins 4-5 weeks then removed, cleansed and reapplied, but Clip Ins will last up to 2 years if they are not worn every day.
Proper cleansing, conditioning and monthly visits to the salon for revitalizing scalp and hair treatments will make sure your extensions as well as your natural hair stay strong and healthy. At Salon Greco, our priority is to care for your scalp and natural hair which are the foundation of the extension support. After all, if your natural scalp and hair are not health and strong, they cannot support the extensions.
When do you know is time to remove your hair extensions?
You know it is time to remove your extensions when you notice the attachments are far away from the scalp, when your hair extensions are twisting and creating small dread locks, when your scalp starts to itch and feels dry and when the length of your hair looks uneven. Timely removal and re-application is important to keep your extensions looking good and believable, and to prevent issues such as the formation of dread locks, breakage and split ends.
For clients who are used to wearing hair extensions long term, we highly recommend taking a break from them for about 2-3 months, to allow the scalp to 'breath" and give the natural hair time to take a break from the weight of the extensions. Our extension experts perform revitalizing and stimulating scalp and hair treatments that will prepare both for re-application of the extensions.  During this time we ask clients to either wear their hair up or use Crown extensions as temporary fix.
FAQs about Hair Treatments
How are hair treatments different than conditioners?
Hair conditioners are slightly acidic and their main purpose is to close the cuticle (the outside layer of the hair) after shampooing, making hair smoother and shinier.
Hair Treatments, on the other side, can be custom blended, are stronger, last longer, penetrate deeper into the hair and deposit more active ingredients, making a stronger impact on the hair.
Hair treatments can be performed before or after any other hair service, can take anywhere from 5 to 30 minutes, are very relaxing and offer many benefits.
There are 3 types of Hair treatments: Restorative, Preventative and Cosmetic.
Restorative Hair Treatments fix existing hair issues. Such treatments can repair chemically damaged hair, add moisture to dry hair, recreate hair fiber, smooth out rough cuticle, add elasticity to limp hair, etc.
Preventative Hair Treatments prepare hair fiber for upcoming chemical abuse. They can strengthen or soften hair fiber, seal hair from humidity, clarify hair from impurities, equalizing porosity, etc.
Cosmetic Hair Treatments  add shine to the hair, seal hair from environmental harm, camouflage split ends, etc   
At Salon Greco Hair Salon we believe that strong, healthy hair is the foundation of beauty. We create such a strong, healthy foundation by offering the world's best hair treatments so our stylist can push the envelope with chemical services such as Highlights, Balayage, Perms, Pastel and Fashion hair colors.
What Is A Perm?
A Perm is a chemical hair service that changes the structure of the hair to a wavy or curly state. During a Perm, the hair is wrapped around rods the size of which are equivalent to the desired curled look. The hair is then saturated with a chemical solution that bends the interior structure of the hair to the shape of the rod. After 15-20 minutes, the chemical solution is rinsed off the  hair while still on the rods.  The hair is then towel dried and saturated with a neutralizer that sets the curl formation. After 5-10 minutes, the neutralizer is rinsed off, and hair is conditioned and styled with a diffuser.
A perm is best suited for clients with straight hair since it adds curls and bounce. Clients with fine hair find that a perm adds volume and lift to limp hair.  Permed hair is also easy to style and has more hold.
There are different types of perms each suited for different types of hair. Alkaline Perms are stronger and best suited for courser, thicker hair, giving a stronger longer lasting curl.
Acid Perms are best suited for thinner, finer hair but offer a looser curl formation or wave.
Exothermic Perms are self heating and can cause some sensitivity to the skin and are best suited for medium texture hair.
Our stylist will conduct a consultation on the desired look as well as the existing condition of the hair. They will make a professional recommendation on the size of the rods to be used, and customize the pattern of  the hair wrap necessary for the desired look. Our stylists also provide home care suggestions and instruction on how to care for your perm.  
What is A Keratin Complex Treatment?
A Keratin Complex treatment is a professional hair service that helps smooth out curly or wavy hair, eliminates natural frizz and repairs damaged hair making it stronger and healthier looking.
The treatment deposits a layer of liquid Keratin to the outside layer of the hair preventing humidity from impacting the hair. The treatment is semi-permanent and wears off with time. On average a Keratin Complex Treatment can last up to 3 months if cared for with specialty home care.
The Keratin Complex Treatment service starts by clarifying the hair to remove any residue and prepare it for the treatment. Hair is then blow dried to its natural state. Liquid Keratin is brushed on the hair and processed for up to 40 minutes. Finally, hair is blow dried and flat ironed to bind and seal in the Keratin.
Clients with chemically damaged hair find that Keratin Complex Treatments offer hair repair and added strength.
Things to keep in mind when considering a Keratin Complex:
1.       Sulfates & Sodium Chloride weaken the keratin Bond. Use Sodium & Sulfate free shampoos & conditions.
2.       Salt water weakens and/or removes Keratin from hair. Avoid swimming in oceans or salt pools.
3.       Avoid shampooing or wetting hair for 2-3 days after your Keratin Treatment.
4.       Use only stylist's approved styling products after your treatment.
5.       You still need to blow dry & style your hair if you want your Keratin to last longer.
6.       Do not wear a head band or put hair behind the ears for the first 2-3 days after your treatment. It can cause hair to create a bend and/or wave that will be hard to remove later.
7.       Keratin t Treatments are meant for Professional Use Only! Inappropriate use can cause hair damage.
What Scalp Treatments and Dry Scalp Treatments are Available?
A scalp treatment is a professional service meant for the specific needs of the scalp.
Treatments vary from Dry Scalp Treatments to Oily Scalp treatments, to Sensitive Scalp Treatments and Dandruff Treatments.
The scalp is an extension of our facial skin and as such, it reacts to the environment and seasons.  Just like the face needs a facial to sooth it, moisturize it and exfoliate it, so does the scalp.
During the winter months we find that clients complain about dry, itchy scalp that sometimes flakes.  During the summer months, clients complain that their scalp seems to produce sebum faster than normal.
A Dry Scalp Treatment is designed to cleanse and moisturize the scalp. In our salon a Dry Scalp Treatment starts with a clarifying shampoo to remove any residue from the hair and scalp, followed by a Propolis Gel exfoliant that lifts and removes dry, flaky scalp and soothes skin.
An Oily Scalp Treatment is designed to cleanse the scalp and help balance sebum production. At Salon Greco, a Sebum Reduction Treatment consists of a clarifying shampoo to cleanse hair and scalp, followed by a Sebum Reducer Serum to sooth and regulate oil production.
An Anti-Dandruff Treatment is meant to cleanse and sooth the scalp. At Salon Greco, our Anti-Dandruff Treatment starts with an Anti-Dandruff Cream to lift and remove dry patches, followed by an Anti-Dandruff shampoo and finished with a conditioning treatment to treat both scalp and hair. At times both An Oily Scalp and an Anti Dandruff treatment need to be combined to treat Seborrheic Dermatitis (Oily Dandruff).
To make sure that your Scalp Treatment is suitable to the needs of your scalp, consult with our hair professionals as to the diagnosis and the treatment.