Summer is ALMOST officially here – June 21st (even though the weather has already arrived)…a lot of us are going through what we call our "summer transition". Meaning we're trying to lose some of our winter weight and slim down for swim season & shorts weather. Here's some tips to ease your seasonal transition!
1. More water!
We know you've heard this a zillion times but it's #1 for a reason! Being hydrated means mental clarity, increased elasticity in your skin, and many other benefits. In general, you should try to drink between half an ounce and an ounce of water for each pound you weigh, every day." For example, if you weigh 150 pounds, that would be 75 to 150 ounces of water a day – WebMD
You can do this! Buy a water jug if it helps you stick to the daily goal of water intake.
2. Moisturize!
This needs to happen daily… especially days that you're spending outdoors in the sunshine. You'll noticed immediately the benefits from moisturizing on the daily. A perfect time to apply your daily moisturizer would be in the morning after showering because your body is going to dry out after toweling off. Having a different moisturizer for your body & for your face is very important!
Aphrodite Body Butter: $18.95 at Salon Greco
Made in Greece & Olive Oil + Cocoa Butter
Free of: parabens, silicones, propylene glycol, mineral/paraffin oil, allergens, synthetic dyes, alcohol, ethanolamine, or GMO.
Pure HA: Face Serum: $69.95 at Salon Greco
with Hyaluronic Acid: Provides your skin with deep, penetrating hydration while improving your skin's tone and appearance.
Fragrance Free, gluten Free, Vegan friendly, dye free and cruelty free
3. Detoxification Body Cleansing
We know you've heard of dozens- if not a hundred different types of detox & body cleanses. Finding the right one through research, reading reviews, and trying it out is important. There are so many benefits to doing a Detox Cleanse… restoring energy & mental clarity, assists in breaking habits, immune system boosting, helps your stomach shrink so you can eat less and feel full, aids in weight loss, and many more benefits!
Body Detox Kit: comes with a Detox for 2 so you can have a Detox buddy! $69.00 at Salon Greco
Guaranteed Pure: Contains no yeast, wheat, gluten, milk or milk derivatives, lactose, sugar, preservatives, artificial colors or flavors, or sodium.
4. Lemons
When life hands you lemons (or a little too much holiday weight still hanging on for dear life), take those lemons, throw them in your water and drink 'em! Fresh lemon juice added to a large glass of water in the morning is a great liver detoxifier. They aid in weight loss, immune system health, acne, and much much more. There's so much to say about lemons- check out this article —-> Hidden Health Secrets of Lemons
5. Sunscreen
UV rays are your skins worst enemy. Why expose yourself to them? Whenever you're venturing outside you NEED to wear sunscreen to protect your skin! As much as we all love being out in the sun, going unprotected will age your skin FASTER. It also exposes you to the risk of skin cancer and having a blotchy skin tone with brown spots. WHO WANTS THAT? Nobody. Always carry it in your bag with you so you're never left unprotected. Having a special made sunscreen specifically for your face is important….
Face: TIZO Age Defying Sunscreen / lightly tinted / SPF 40 / water resistant: $37.00 at Salon Greco
Solar Protection Formula / SPF 45 / water resistant: $9.00 at Salon Greco
Perfect protection for your lips!
6. Hair Treatments
During the summer regular conditioners you use in the shower just don't cut it in protecting & repairing damage done by the heat and sun. Though they seal your hair, they don't treat it. We offer a wide variety of hair conditioning treatments at Salon Greco in Suwanee, GA. Anywhere from $25 – $350+ we customize your hair's treatment based on your hair type, length and thickness. Our award winning Keratin Complex smoothing processes leaves your hair frizz-free for up to 5 months!
7. Hydro Facial Peel
A non invasive, multi step, Aesthetic treatment that uses a specialized machine to cleanse, exfoliate, extract impurities, hydrate & infuse active ingredients to the skin, all at the same time. It's like 5 treatments in 1!
The Hydro Facial Peel uses a hand held vacuum based tip that jets out USP water and a mixture of clinically formulated ingredients in a unique vortex flow. The treatment extracts impurities from the skin & infuses nutrients at the same time, delivering optimum cleansing & hydration to the skin.
Hydro Facial Peel: $149 (45 min) offered at Salon Greco
8. Walking
Yes we said it! Walking. Set a goal to get outside everyday and walk for at least 30 minutes…you'll be amazed by the results. Some of the benefits of walking daily:
Mood Boosting with fresh air boosts your body's intake of Vitamin D
You'll notice your pants fitting more loose! Walking everyday helps improve your body's response to insulin, which directly reduces belly fat.
Give definition to calves, quads and hamstrings while lifting your glutes (bum muscles) with a good, regular walk.
9. Vacation + Travel
Traveling gives us breathing space that is often lost in our usual day-to-day existence. You may refer to vacation as a "sanity break". Get a detox from social media, get a Vitamin D boost, and collect memories…take a vacation! You deserve it.
Greenville, South Carolina: Voted #1 Best Small Town in America – this town has killer restaurants & bars and it's a short distance away from great hiking spots.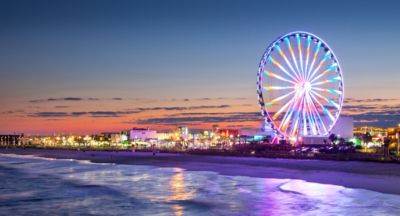 Myrtle Beach, South Carolina: Beautiful beach with tons of attractions including Ripley's Believe it or Not Aquarium, shopping district, the Boardwalk, and much more. A short drive from Georgia!
Sleeping Bear Sand Dunes in Leelanau County, Northern Michigan: You'll feel like you're at the edge of the world at this beautiful Michigan landmark. Voted "Most Beautiful Place in America".