Got roots? No time for the salon? Can't afford salon prices? Like the convenience of box color?? YES?
NNNNNNNOOOOOOOOO!!!!!!!
Here are the TOP 5 REASONS YOU SHOULD NOT USE BOX COLOR!
One size does NOT fit all.
Have you ever bought a one size fits all shirt? Did it fit you and 5 other people the same way? No! Neither does box color. Stylist formulate color based on current color, desired color and previous colors. If you have blonde hair and want an ash brown color you would probably just buy an ash box color. WRONG!!! Your hair will turn green!! I would bet green hair is not what your looking for! There are different types of colors also. You have demi, semi, temporary and permanent. If you are someone who changes their hair color often, your not going to use a permanent color. You would need a demi that can be easily removed without damaging the hair. If you put "cherry cola red" on your hair and your friends hair, chances are your both going to end up with a different color even though it was the same formulation. And, if you have brown hair not and want blonde hair, you can't buy blonde color and expect it to turn your hair blonde. Color does not lift color. Color on top of color only make a darker color.
The texture of your hair will be different.
Do you like the feeling of straw hair? There is no post color condition treatments leaving room for fading, breakage and eventually hair loss. Everytime you color your hair it slides further and further down the porosity scale. Basically, the damage is getting worse on your hair and will eventually start falling out. You will be in the salon for an very unwanted haircut soon!
Celebs do not use box color!
I can promise you JLO and Beyonce are NOT using L'OREAL color! Marketing for box color is doing a great job. Want Beyonce hair? Buy this box! Beyonces stylist will tell you that she only smiles in those pictures for the paycheck. JLO is only doing it for the money too! They would NEVER touch their hair with box color!
Ingredients in box color!
Box companies use the lowest amount of pigment possible in their formulas. Water is the 1st ingredient listed on this box. How much color do you think you will get out of water? None!! And how well is water going to cover gray hair? It isn't!! Save your hair and let the professionals do what were trained to do!!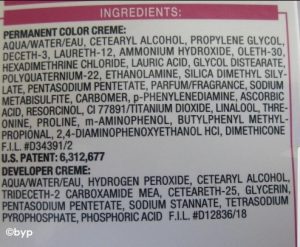 Prices!!
Yes, box color is cheap. $6. As the saying goes, you get what you pay for. Color correction starts at $150 in most salons. A good estimated price for a color correction is going to be $200- $500 depending on how bad the color is. If you go to the salon for an all over color and style, your looking at about $130. Save the time, money and texture of your hair and go to Salon Greco for all of your hair needs!! Our staff is trained and skilled to tackle anything that comes in our door. We use Goldwell and Framesi colors which are the top in the industry. Call 678-546-5116 and book your consultation with any of our fabulous stylist. We will customize your look to fit your style!!
By: Melissa